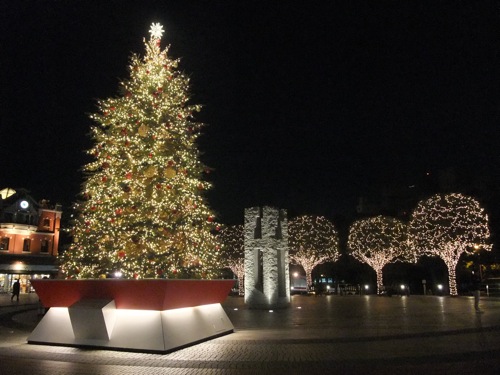 The beautiful Christmas tree is decorated in the Ebisu Garden Place. The illumination was truly beautiful.
Finally, I have to leave Tokyo tonight. I'll go to Singapore and stay there half day then go back to Bangalore.
The 2 weeks vacation was not too long but not too short. I mean, it was reasonable length. I am missing my home in Bangalore.

I have to check out the hotel in one hour. I almost packed my suitcase. Meanwhile, I'll write the journal.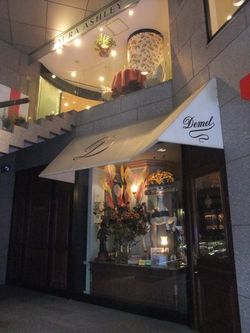 The breakfast buffet of the hotel was quite good. I enjoyed variety of fruits and nice pastries.
On Thursday, I went to Omotesando area. When I was living in Tokyo, I often came here. It is one of my favorite areas in Tokyo.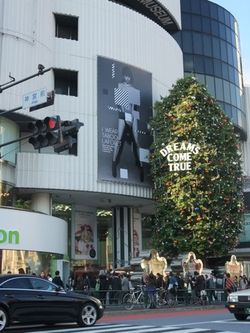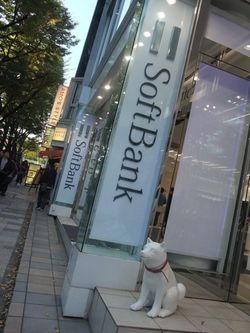 I found many new shops this time. Arvind and I came here together 9 years back. At the time, I took him my favorite sandwich bar "Banboo".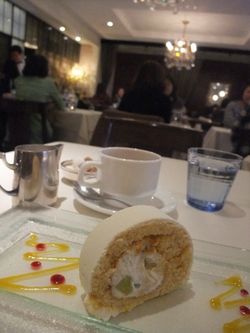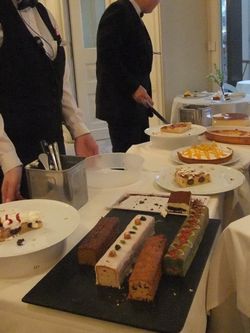 I wanted to have a light meal so I visited Bamboo, but the interior and the concept of the cafe was totally changed.
No sandwich. I ordered a cup of coffee and a piece of roll cake. Surprisingly, the elegant cafe was offering "Cakes wagon service". It was kind of cake buffet.
In 1.5 hour, you can eat the variety of cakes as much as you want. It was 2,000 yen includes a cup of coffee or tea.
The slim and tiny young girls who were sitting next to me, picked more than 10 pieces of cakes each, and finished everything!
I was really amazed. Afterwords I talked to the waitress who were serving cakes.
According to her, their customers really love sweets, and most of them eats countless cakes.
They have a "Betsu bara (extra stomach for sweets)". That why their pastry chef is extremely busy to bake lots of sweets.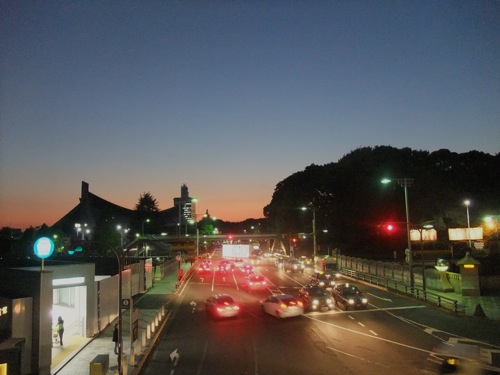 The scene of Harajuku-Omotesando area.The view with no hi-rise buildings was nice to see the sky and the moon. The wind was quite chilly and the half moon looked cold.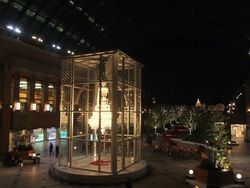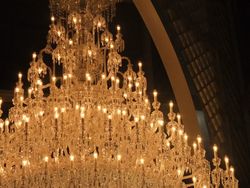 I took train from the Harajuku station, and went to Ebisu station to have dinner with my friends. I arrived there bit early so I stopped by the Ebisu Garden Place.
The center of the area, a huge chandelier was decorated. The Baccara's chandelier came from France just for the Christmas season.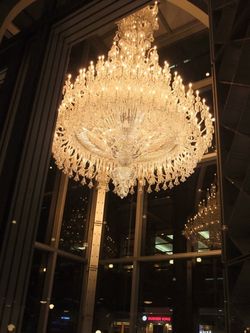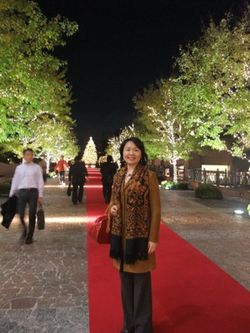 While I was walking alone, I was missing Arvind, so I called him from a public phone. We talked for a while.
I wanted to show him the lovely illumination. Anyway, I am glad that he was doing well in Bangalore.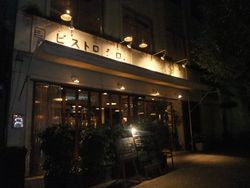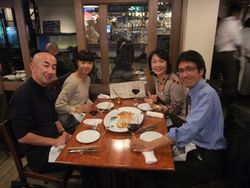 Afterword, I went to the seafood restaurant "Bistro Shiro" which was recommended by Michiru. I met Michiru (Hair & Makeup artist), Junichi (Photographer) and Mr. Inoue at the restaurant. They are my New York's friends.
When I had "Muse Publishing, Inc." in New York, Mr. Inoue was the expat from an advertisement company in Japan. He was one of my clients and we worked together for a while.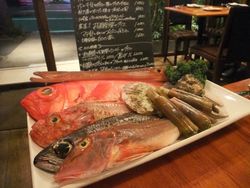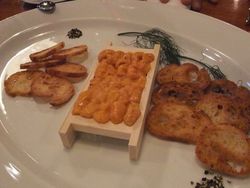 The seafood dishes were really awesome! The orange staff is sea urchin.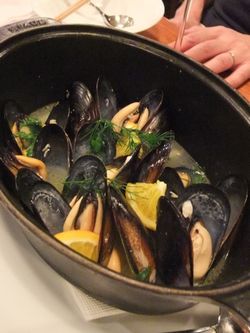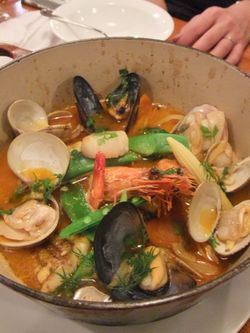 We enjoyed nice meal, nice wine, and the wonderful conversations!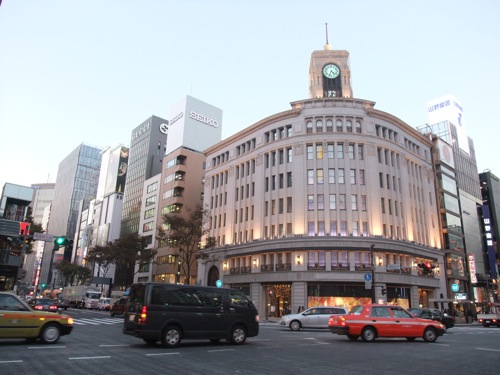 On Friday, I went to Ginza to search new camera (a single-lens reflex digital camera which is small size). The camera shop was extremely busy, and I was pretty tired.
Instead of buying camera, I went to a small massage parlor to get foot massage. The 30 minutes reflexology was wonderful. I refreshed!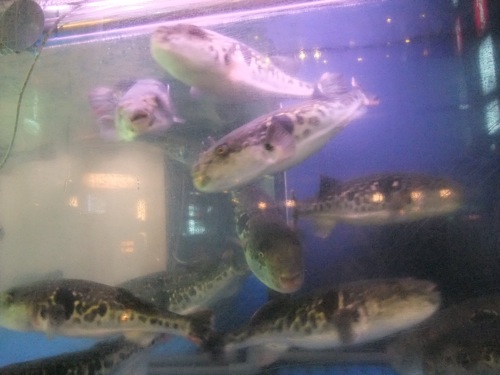 In the late afternoon, I went to Akasaka area to visit my client. It was 5:30 but the sky was already dark.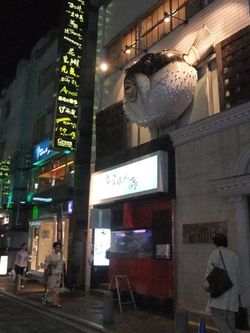 Anyway, do you know the fish?
Yes, these are "FUGU (globefish)".
The season of FUGU is coming to Japan.
The expensive and quite dangerous fish dishes are popular in this country.
You must avoid to eat some particular parts of the fish.
Otherwise you'll be killed by the poison!
Anyway, I visited the office building of my clients.
When they came to India for their research trips, I attended them several times.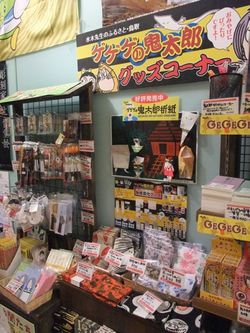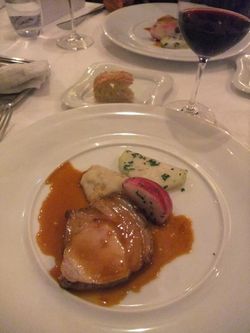 They took me an Italian restaurant (not FUGU restaurant) for dinner which is related Tottori prefecture.
The ingredients of the dishes were from Tottori. The wines also made in Tottori. It was very impressive dinner!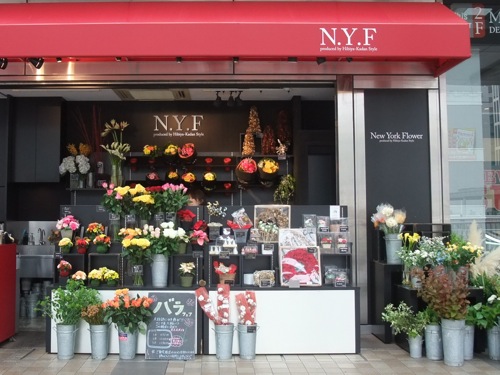 On Satuday, I went to Meguro to meet my friends Yukako, Bill and their son Jake!
They used to live in Bangalore and Mumbai. They left India the end of this August and now live in Tokyo.
It was the first time to meet Yukako in Tokyo. It was quite strange feeling!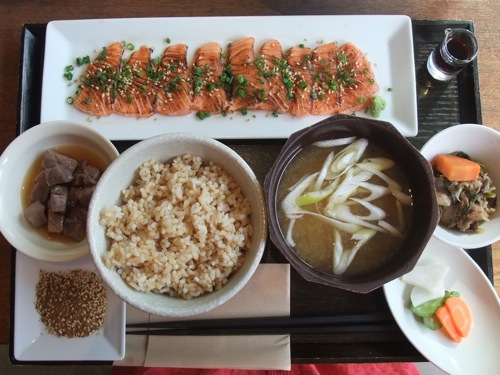 Yukako took me lovely cafe and we had tasty and healthy lunch. I ordered Japanese, and she had Italian.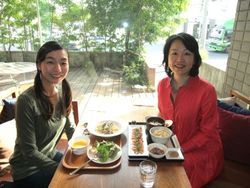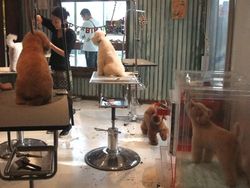 After the lunch, I visited their home, and met Bill and Jake! It was really nice to meet them again!

After I left their home, I went to Shibuya alone. I finally bought a camera which is not only high quality but strong!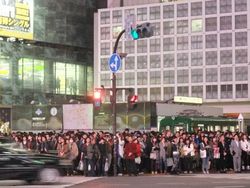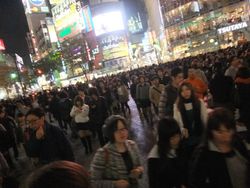 The Shibuya area was full of young people. It was extremely busy and difficult to walk.
Oh, I have to check out the hotel soon. If I have a chance, I'll write and proofread it at the airport.
■インド発、世界2010:坂田の個人ブログ(←Click!)