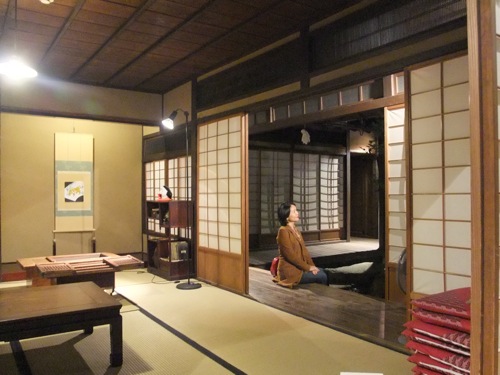 Hakata Machiya Folk Museum.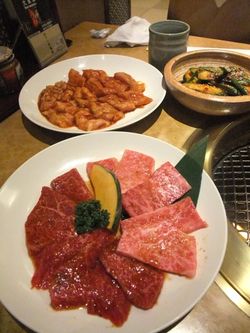 Yakiniku (Japanese style Korean BBQ) @ Daitoen which is one of our favorite restaurants.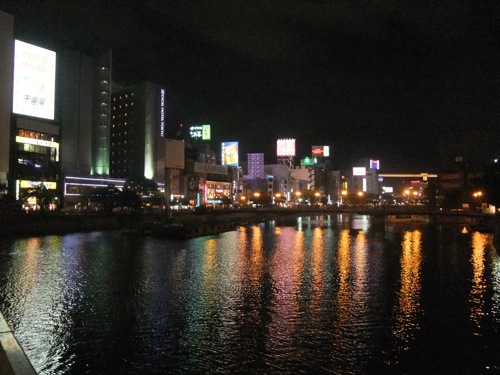 The night view of Nakasu, Fukuoka.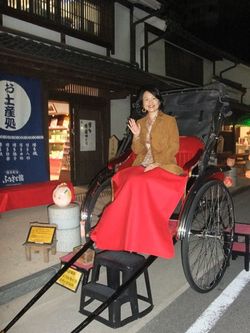 The leather jacket which I bought a leather shop at the Commercial street in Bangalore is really useful!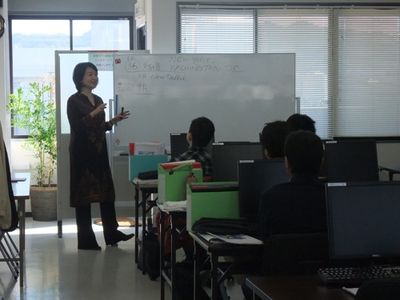 日本語での流暢な記録はキレイなブログに記していますので、下記をクリックしてお楽しみください。
★インド発、元気なキレイを目指す日々(第二の坂田ブログ)
(←Click)

[4th Nov. 2010]
We've had a good of weather recently. It is slightly cold but comfortable. I visited my sister's computer school this morning, and I did the lecture for the students again.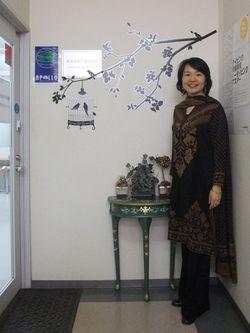 I wore salwar Kamees which I bought at a Ritu Kumar boutique last month.
It is quite comfortable and reasonable to wear it in Japan.
The lecture went well. Some of the students were interested in India.
After the lecture, we had enjoyable conversations.
The students are currently between jobs and searching of new jobs.
I hope they'll find new jobs and start the new life as soon as possible.
After the lecture, I was planning to go to Tenjin (center of the city), so I was walking to the parking lot with my sister.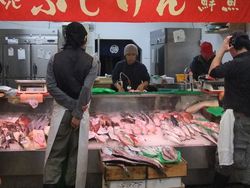 On the way, we found a fish shop.
At the store, we found packed sushi and sashimi which were really fresh and high quality!
We decided to buy some of them and take home for lunch.
I asked my sister to call to my mother and request her to cook rice!
In Fukuoka, you can purchase very high quality seafood at a low price. It is amazing!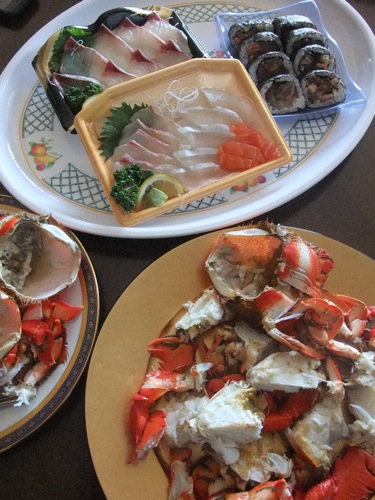 We bought not only fish but crab which is called "Asahi Gani". It was really gorgeous and tasty lunch!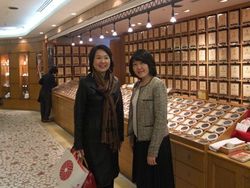 After the lunch, I went to Tenjin and met Ms. Katsuki who is a journalist.
She is working at the "Nishinippon Shimbun" (West Japan Newspaper).
3 years ago, she came to Bangalore for inspection tour which is organized by Fukuoka City Government.
Afterwords, she was stationed in Korea for a year and came back to Fukuoka this spring.
Her story about the life in Korea was interesting. I was impressed by the fact that she studied Korean language for 9 months before the transfer.
In Korea, of course, she improved the skills, and she could communicate with the local people.
I was bit ashamed to hear the story. I should study Hindi!!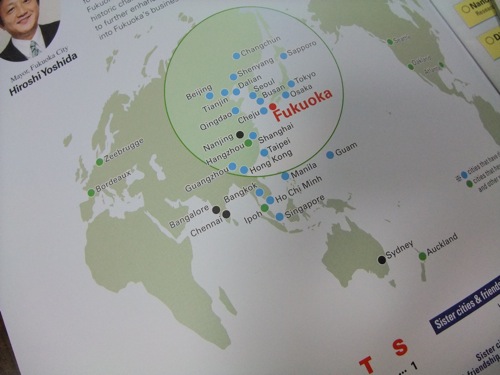 After the meeting, I went to Fukuoka City Government office building which is located near by the Nishinippon Shimbun's building. I visited the International Affairs Department.
In the future, I'd like to do some more job between Fukuoka and India.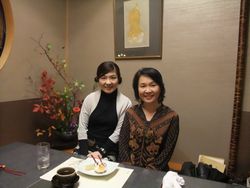 In the evening, I walked to Nakasu and had dinner with Hisae who is a radio DJ.
We had a great time at the TOFU restaurant!
The dinner was great, and of course, the chat was really fun!
I'll meet her again at the studio of "Cross FM" on Saturday.
We are planning to talk about the life in India. I am really excited!!
インド発、元気なキレイを目指す日々(第二の坂田ブログ)
(←Click)