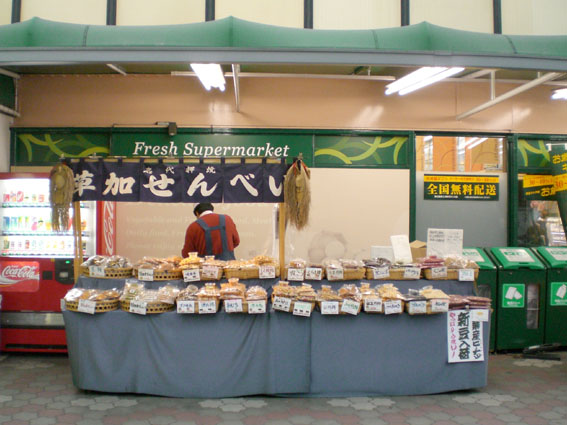 明日が祝日である故、平日の今日、仕事関係の方々と会う約束を入れておいた。ランチ、ディナーを除いてのミーティングは3件だから、余裕があるだろうと思いきや、久方ぶりの東京。電車に乗り継いだり、道に迷ったりしている間に、瞬く間に時間が経つ。
それにしても、東京では歩くこと歩くこと。マンハッタン時代も歩いていたと思ったが、東京の階段の多さは疲労度を倍増させる。大学を卒業して以来の8年間、この街を歩き巡ることは普通だったが、いやはや、今となってはたいした運動量であったと実感する。
切符を買い、改札を抜け、階段を上ったり下りたり、電車に詰め込まれたり押し出されたり、ああもう、ラジャン(ドライヴァー)、迎えに来て! と叫びたくなるマダムな我。
およそ15名ほどの方々とお会いし、方々でしゃべりまくる。インドの、悪いところ3割、いいところ7割、といったところか。インドを熱く語る自分の情熱に感心する。そんなにも、あの国が好きなのか?
それにしても、東京。種々の思いが交錯して、何からどう、表現してよいのかわからない。

Today, I visited 3 companies and met about 15 people. It was really nice to meet them. Since I left Tokyo in 1996, I have been working with Japanese clients through the internet (e-mail-exchange) or phone calls. I wanted visit and meet them on this occasion because I had never met most of them.
Right after breakfast, I left the hotel and went to Tamachi station to visit a company.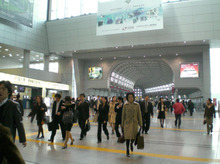 I took a train from Shinagawa station which is newly renovated.

The map is showing only JR line's stations but subway stations. Even though, the map is really condensed and complicated.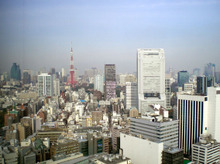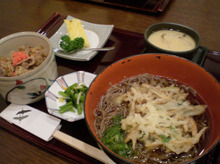 From the meeting room, I could see the Tokyo Tower again! After the meeting, I had lunch with clients. I ate a Japanese style combo-lunch, Kakiage-soba (soba noodle with vegetables tempra) and Gyu-don (beef-rice bowl). It was nice.
I found a latest style "KONBINI". "Natural Lawson" is presenting healthy food products. Anyway, these type of bitter chocolates are popular in Japan. "Cacao is very good for your body, eat bitter chocolates!" Someone said so on a TV program. That why.
After lunch I headed to Omotesando for the next meeting. Omotesando is one of my favorite areas in Tokyo. The street lined with trees is nice, and I like to walk here.
On the way to go to Omotesando, I walked through Takeshita-dori (street). The street is a kind of amusement park. Young girls who wear strange, unique fashion are walking around the area all the time.
Among the main street of Omotesando, you will see many luxury brand shops. At the same time, if you walked off-street, you can find traditional buildings or small shops.
After the second meeting, I headed to Eifukucho to visit a company. At first, I had to go to Shibuya station then exchange the other line to reach Eihukucho. I was getting tired to take trains. I don't know how much I did walk today. The life in Tokyo is pretty tough.
After the final meeting, I went to Ebisu and spend a couple of hours at a department store. I found a jewelry shop and checked some showcases. I found semi-precious stones.
Even though the stones were extremely small like poppy seeds, those were priced really expensive! It's easily to be 10 times the price of India!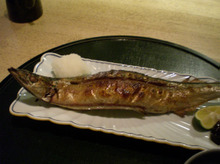 After the market research, I visited an authentic Japanese restaurant and had a great dinner with one of the clients who came to Mumbai the other day. It was really enjoyable dinner.
I didn't feel that we can't meet for long periods of time. I hope she will come to India sometime soon.
Anyway, I am getting tired to write in English! It's very tough!! I may give up soon....