(By Sahnya Mehra; 13th March 2018)
On the 13th of March, 2018, I had a day out on the town with my Mentor, and Editor, Miho S. Malhan. We spent the day in Indiranagar, a downtown shopping and commercial area of Bangalore.
The day started off as it always does, with me dealing with the gruelling task of public transport. I took an auto to Miho"s house, and she met me warmly at the door. After a few minutes wait, we were in her car, en route to Indiranagar, which was barely 20 minutes away.
Our first stop was at WeWork, in the Embassy Golf Links Business Park. WeWork is the world"s largest community working space. I was completely blown away by the place. With state-of-the-art working spaces, hi-tech equipment, and laid-back vibe – it spoke to me. But the most stunning feature of the place was probably the people, themselves. The place had a young, trendy vibe to it, which was absolutely buzzing with energy and creativity. A man, maybe in his early 20s, showed us around. He works as the event co-ordinator, and briefed us on the types of facilities available to their clients.
After about half an hour, we headed to Taneira. Taneira is a luxury saree shop affiliated to the Tata Company. The store exhibited beautiful handpicked saree designs, from over 30 weaving clusters, from various types of traditional Indian styles, like – Banarsi, Ikat, Kota, and even Kanjeevaram. What makes Taneira stand out is that fact that they are trying to modernize the sari, and make it a wearable, comfortable outfit for the modern, active woman.
After Miho explained the techniques and significance of a few styles to me, we realized that we were getting quite hungry, and decided to get lunch.
So, we ended up at Red Fork. The place, which eventually closed down in the 15th of March, 2018, was home to some of the most traditional Parsi food in Bangalore. The traditional food of the Parsi community usually compromises of a dish made of rice, accompanied by lentils or thick coconut - based curry. Dished of meat and potatoes are common.
Since I had never sampled Parsi cuisine before, Miho wanted to take me to one of her all – time favourite places, for one last meal. Before lunch was served, we discussed my last writing assignment, and Miho gave me valuable feedback about my writing. We ordered a chicken biryani, pea cutlets, and an exquisite dish called "Dahi mein Bheeda" – a thick gravy made of yogurt with bits of okra in it. The meal wan amazing, and for dessert, we were served a bowl of tiny meringues.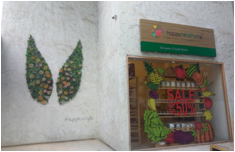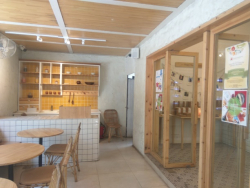 Miho then wanted to do a bit of grocery shopping, so she took me to "Happy Healthy Me" – an organic food store, with a tiny café attached to it. After a quick Google search, I found out that that the store is India"s first 100% certified organic food brand, and grocery shop. I shadowed Miho while she shopped, and took notes on some of the food available, for future reference.
Finally, we stopped at Lavonne – a artisanal patisserie and academy of baking science. Over a cup of espresso, and a shared chocolate mousse, Miho and I spoke about our lives, and what was to come over the next few days or my working with her. She even sent me home with a few Danish pastries for my parents.
Overall, I had an amazing time, and was excited about the kind of exposure I got from the day. I love that I got to try new things, and as always, learnt so much from Miho.