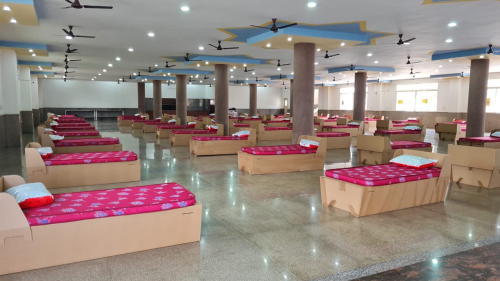 OBLFのCOVID-19感染者向け第2センターも、本日より稼働しているようです。各方面からの協力により、低コストで設置しやすいベッド(ダンボール製)などが集められている模様。しかし、まだまだ支援は必要です。引き続き、よろしくお願いします。

◉インド国内からの寄付
➡︎https://www.ketto.org/fundraiser/OnebillionLiterates
◉インド国外からの寄付
For International Donors (via Global Giving):
➡︎http://goto.gg/24430

(1週間前に届いたメール)
Our first Covid Care Centre (CCC) with 24/7 medical support and oxygen supported beds is running as efficiently as it possibly can under difficult circumstances. The centre has been treating patients for the last several days now and seeing an increasing case load day-by-day; more importantly, it is serving its purpose of providing critical primary care to patients and relieving pressure on the overburdened state health system.
Our second covid care centre is currently being operationalised. It is a large community venue that is being repurposed into a CCC. All our formal permissions are in place and the ground work to get the centre ready is going on in full swing. In this centre, in addition to 50 beds which will be oxygen supported, we will have an additional, separately enclosed 20 beds exclusively for women/pregnant women from nearby slum/blue-tent settlements who just do not have the wherewithal to isolate at home if they or their family members test positive;
We have been incredibly fortunate to have Entrepreneur's Organization (EO) be an infrastructure partner for very critical capital equipment requirements at this centre. We also assembled the very innovative, easy-to-assemble, and low-cost corrugated bed specially designed to be used in these circumstances.
And last but definitely not the least – our Education & Awareness campaigns have started in full swing; our team has been in interior villages and by-lanes over yesterday and today (literally) driving information campaigns via loudspeakers mounted on an autorickshaw, distributing masks and other information collateral.
Our task is far from over. And neither is our fund-raising drive. We have to sustain this momentum, and we need your help to continue to amplify our messages and our updates; Thank you so much!
(昨日、届いたメールの一部)
the CCC is almost ready; the OCs are also here; tomorrow the Oxygen Cylinders will get delivered; and the portable toilets and bath units will also come within the next 24 hours;